Branding your social media graphics matters big time for your business.
No matter what social media you're using for your business, you'll want people across all networks to be able to recognize your brand.
It's a great way to get people to remember your brand no matter what social network they're on.
Creating that memorable brand image will catch your audience's eyes and remind them, "Hey, I recognize that brand!"
The more people see your brand in places they're spending time online (Facebook, Pinterest, Google searches, Instagram, etc) the higher probability that they will remember you the next time they're looking for what you sell.
In today's post, we share why branding your social media graphics is so important and the different ways it can actually bring you more business.
Why Branding Your Social Media Graphics Matter & How It Can Bring You More Business
1 | It makes your brand memorable
Doesn't everyone want their brand to be memorable? Think of brands that are memorable to you: Nike, McDonald's, Google, Facebook. All you have to do is see their logo and immediately know who they are and what they do.
Why can't you do the same for your brand? You want your brand to stand out online and by using your branding on your social media graphics, people will begin to recognize your brand as their scrolling through Facebook, Twitter, Pinterest, and Instagram.
Any time they see something that resembles your brand, they'll remember it. If you can get someone to have your brand in the back of their minds, you'll have them forever.
For example, Alex Beadon uses a pink circle throughout a lot of her social media branding: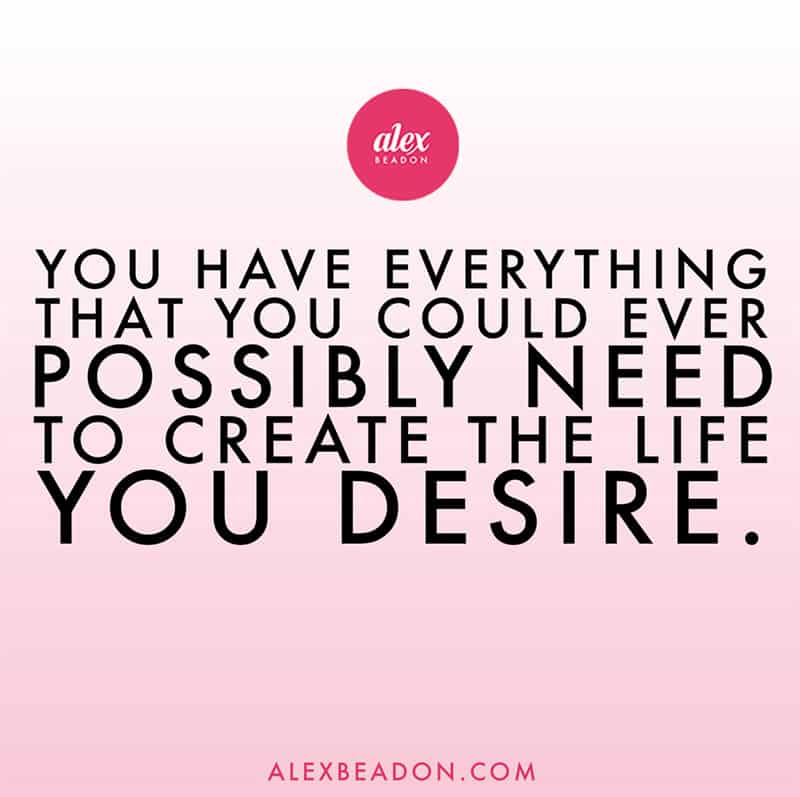 Any time I see a pink circle, or even that hot pink color, I think of her. It's ingrained in my mind that when I see a pink circle = I think of Alex Beadon.
Because she uses this all across social media, it's hard to ignore and easy to remember.
2 | It attracts your ideal customers
Using your brand colors and design within your social media graphics can tell a lot about your brand to people online.
For example, we use a light pink color as a part of our branding and include it in nearly every social media post we share.
We use this color intentionally. We design feminine WordPress themes for female entrepreneurs. The light pink color automatically attracts our ideal customers, because many women are attracted to the light pink color (this isn't obviously always the case, there are plenty of women who hate the color pink!).
The brand images that you use on social media can convey a lot about your brand before anyone even clicks over to your site.
There are hundreds of scholarly articles on the psychology of color and what it means for marketers, take a look at this one to learn more about it.
By using branding that resonates with your ideal customers, you can start to attract new followers on social media to follow your brand.
Using your brand color palette tells a lot about your brand: we use light pink for a feminine feel. Brands like Facebook, Twitter, and HP use blue to symbolize trust, intelligence, and progress
Related post: How We Use Instagram As A Business (And How You Can Too!)
3 | It makes your images shareable
The fact is, if you share beautiful, gorgeous imagery on social media, it's more likely to be shared. Part of the entire premise of using social media for your business is to connect with your followers on a platform and for them to share your updates with the people that are following them.
Using your branding on your social media posts can help make your images more shareable (especially on Facebook and Pinterest). You'll want to brand your social media images in case your followers share your posts with an audience that might not be familiar with you yet.
Your complete guide to building a brand on social media
Get our FREE workbook to building a brand on social media so you can get more results with less effort. Plus, you'll get access to 15+ other free resources inside our Freebie Library.
4 | Visuals can tell a story much more than words
You know the says "a picture is worth a thousand words?" It may be cliche, but it's true.
Visuals can enhance your brand in ways that the written text can't. Being consistent across social media platforms with the types of graphics you share will help your audience begin to recognize your brand every where they go.
Sometimes you don't need text to accompany an image, a visual can tell the entire story.
Related post: How to Get People to Take Action on Your Website
Learn why branding your #socialmedia graphics matters & how it can bring you even more business!
Click To Tweet
5 | Tools you can use to create graphics
Wondering what tools you can use to create shareable, beautiful imagery? Here are a few options:
Canva
Photoshop
Adobe Illustrator
PicMonkey
Pixlr
Final Thoughts
We hope this post helps in explaining exactly why branding your social media graphics matters and how it can bring you more business. We just launch a new product related to social media graphics to help you get started and we're so excited! Check out our Canva Social Media Templates!