We're back with another post discussing sales funnels and this one might be our favorite one yet!
If you're just joining us, we've already covered what sales funnels are and why every business owner should be using them, and how to start building your first sales funnel.
As a brief reminder, a sales funnel is the process potential customers go through to become customers.
The goal is to funnel down your prospective customers into ones who are serious about purchasing.
Today, we'll be breaking down each step of the sales funnel and show incredible examples of each step so you can have a better idea of how you can start creating your own.
Here's what we'll be breaking down:
Landing page examples (for free content)
Thank you page examples
Tripwire page examples
Sales page examples (for paid products)
Let's get started!
Sales Funnel 101: Breaking Down Each Step of a Sales Funnel + Examples
1 | Landing Page – Free content
A great landing page convinces a visitor to opt-in to whatever is being promoted on the page. Whether it's opting in to a free content upgrade, webinar, or email list, we all want landing pages that convert.
What makes a great landing page?
Great design: Simple to understand, one call-to-action, easy to read, brand colors.
Compelling copy: Speaks directly to your target audience, speaks to a problem they're having.
Testimonials if you have them.
Here are a few examples of great landing pages for a free opt-in:
Summer Tannhauser – Pinterest Power 5-Day Course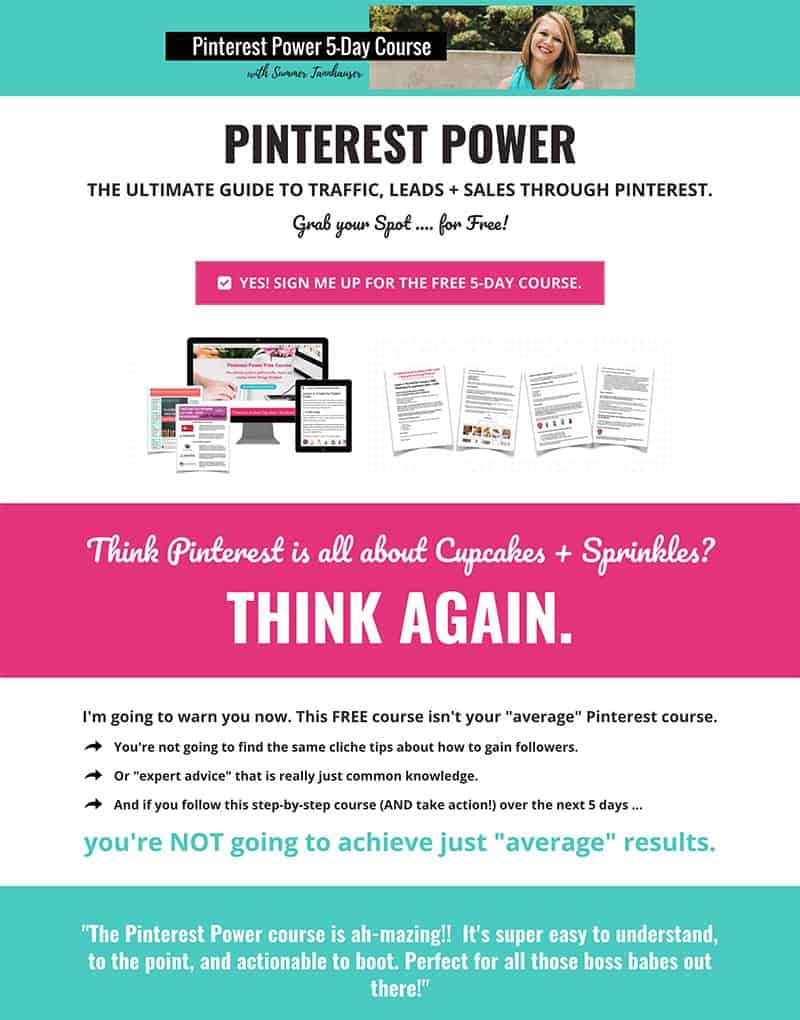 What we love: It's on-brand, easy to read, identifies what you can expect from signing up for the course. She explains who she is and why you should take her advice, clean & minimalist layout, features screenshots of what you'll receive when you sign up.
Related post: Sales Funnels: What They Are & Why Your Business Needs Them Now
2 | Thank You Page
A thank you page can be seen as an afterthought for some business owners, but a thank you page can be used to nurture even more leads to your website.
An excellent thank you page includes:
A thank you (obviously!): This is your chance to say thank you for signing up or purchasing. This is also the place where you can set their expectations as to where to access what they signed up for.
Stellar design: Again, strategic design is important. Your thank you page should be designed to show that the person has successfully signed up for whatever it is you're offering and below that should feature social sharing buttons, an about section and a link back to your website.
Social sharing buttons: A person landed on your thank you page because they were interested in what you were promoting, which means there's a high probability that they'd want to share it with their network of people too.
Examples of great thank you pages:
Mention – Ultimate Guide To Influencer Marketing with Venngage Thank You Page
What we love: Confirmation that you've successfully signed up, a tutorial video, a place to request a demo of their product.
Melyssa Griffin – Free Resource Library
What we love: Confirmation that you've signed up, big social sharing buttons, tells you what to expect to be receiving in your email inbox.
Check out @Bluchic breaks down each step of a sales funnel, including stellar examples of each!
Click To Tweet
3 | Tripwire Page
A tripwire page is a page that offers a fast-action, low-cost product to a visitor that had signed up for your email list or a free opt-in.
Instead of offering one of your more expensive products up-front to a potential customer, you offer them a less expensive offer immediately after they've signed up in hopes that they are more likely to buy from you in the future.
A tripwire page can be extremely helpful in increasing revenue and future buyers.
What makes a great tripwire page:
It's fast-action: The whole purpose of a tripwire page is that the visitor has to act fast to get the offer. A deadline should be listed via a countdown or in text.
Strategic design: The top part of your tripwire landing page should feature the exclusive offer that's available for a limited time. Your design should also include a picture or graphic of your tripwire offer so people can visualize what they will be receiving by purchasing your product.
Countdown timer: Since a tripwire is a fast-action bonus, having a countdown timer is a great way to visually show how much time they have left to purchase.
Examples of tripwire pages:
Boss Mom – Trello Boards
What we love: A video explanation of the product, the percent discount you get from the product if you purchase now, a visual of the Trello boards you will receive upon purchase.
Trunked Creative – Monthly Content Planning Kit
What we love: A countdown timer with a specific deadline to purchase, a testimonial explaining who this product is for, screenshot visuals of what you get upon purchasing.
Related post: Tripwire Funnels: What They Are & How to Use Them
4 | Sales landing page – Paid product
A sales page is a page that is promoting a paid product of yours.
What makes a great sales page:
A headline that hooks: Your headline should feature your unique selling proposition (USP) to convince visitors to continue reading the page.
Copy that speaks directly to your ideal audience: When we're writing our sales pages, we try to write directly to our ideal audience and the struggles that they have.
Designed for easy readability: You don't want to overwhelm visitors with a lot of text, so you'll want to make sure your sales pages leave room for white space, features your branding, and break up the blocks of text.
Examples of great sales pages:
Heather Crabtree – The Savvy Community
What we love: The top of the page features direct quotes from her ideal audience and their struggles, shares the purpose of the community and who it's for, the design is clean, bright, and easy to read.
Pat Flynn – Power-Up Podcasting Course
What we love: The powerful headline that explains exactly who this online course is for, copy that explains exactly what you get when purchasing, an awesome explainer video.
Final Thoughts
Now that you've seen examples of amazing landing pages, thank you pages, tripwire pages, and sales pages you should feel confident in creating your own for your own business.
We hope this post helps you start feeling less intimidated by selling your products and services, and more motivated to create great landing pages!
Want to create a high converting sales page?
Get our FREE checklist on how to design a high-converting sales page before you launch your newest offer. Plus, you'll get access to 15+ other free resources inside our Freebie Library.